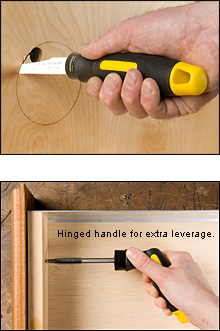 This handle is handy to have in any toolbox. What makes it so useful is that it accepts standard reciprocating saw blades, so you can use them manually to make cuts in confined spaces. It can also be used as a screwdriver with the included 4" long 1/4" hex extension.

The handle comes in a nylon belt holster with two 6" blades (10 tpi for cutting wood, and 24 tpi for metal) and seven S2 driver bits (1/4" and 3/16" slot, #1 and #2 Phillips, #1 and #2 square drive, and #2 POSIDRIV®) plus a 1/4" socket adapter.
Made from durable ABS, the handle is hinged and locks for in-line use, or at a 60° angle to form a comfortable pistol grip.